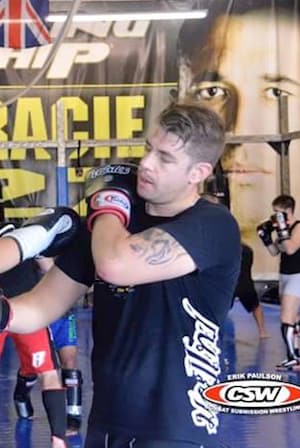 Jesse Briggs
Professor Jesse Briggs coaches the Brazilian Jiu Jitsu, Judo, Savate-Thai Kickboxing, Sparring and Combat Submission Wrestling classes. He has been training Brazilian Jiu Jitsu (BJJ) for ten years. He is a former member of the Ricardo Almeida/Renzo Gracie MMA (Mixed Martial Arts) team, as well as a former training partner for the International Fight League's New York Pitbulls Fight Team. He has trained with multiple former--as well as current--Pride FC, UFC and Bellator fighters. In addition to training extensively with pro MMA fighters he heavily trained boxing with Coach Conor Mullanaphy. Professor Briggs used his extensive training to become a contender for the USKBA Light Heavyweight Combat in the Cage Amateur Title.
In addition to being active in MMA, Professor Briggs was also a coach at Ricardo Almeida Brazilian Jiu Jitsu, honing his teaching ability. He further developed his teaching skills by co-developing and instructing the children's BJJ program at JBM Jiu Jitsu with Professor Brian McPherson, a 2nd degree Black Belt under Daniel Gracie. Professor Briggs has also assisted in the development of an MMA program where he trained Muay Thai with Level 3 Fairtex Kru, Instructor Steve Seddon, and studied wrestling with UFC fighter Jonavin Webb.
Inspired by Professor McPherson's decorated career as a New Jersey State Trooper, Professor Briggs decided to pursue a career in law enforcement. In 2009, he moved to El Paso, Texas and further developed his grappling under Judo Sensei Oscar Mendoza. He now holds the rank of Ikyu (Brown Belt). Professor Briggs went on to further evolve his Jiu Jitsu skills and began working with UFC fighter, Multiple Time World Champion and Abu Dhabi champion, Robert Drysdale.
In February of 2014 Professor Briggs received the rank of Black Belt in BJJ from Daniel Gracie on a visit to JBM Academy in New Jersey. Because of this, Professor Briggs is one of the only Black Belts in El Paso to receive his black belt personally from a Gracie family member! In August of 2018, he received his Second Degree from Erik Paulson under Rigan Machado.
Professor Briggs has trained with and been coached by many top practitioners including:
UFC: Renzo Gracie, Roger Gracie, Brad Tavares, Evan Dunham, Forrest Griffin, James McSweeny, Dan Hardy, Donald Cerrone, Josh Barnett, Matt Riddle, MMA coach Rob Follis, Tom Deblass, Dante Rivera, Delson Heleno, Referee Kevin Mulhall and Ricardo Almeida.
Pride FC: Daniel Gracie, Igor Gracie and Kazuo Misaki. BJJ Experts: Rodrigo Cavaca, Robert Drysdale, Kit Dale, Eddie Bravo, Flavio Almeida to name a few.
Jesse is also a coach under MMA legend Erik Paulson, who is a world-renowned MMA coach, coaching some of the most elite MMA fighters in UFC, Bellator and other premier fighting leagues. Jesse travels several times each year to continue his martial arts education so that he can bring what he learns back to his students.
Professor Jesse Briggs looks forward to training with you and your family in the very near future.